From The Observer: "
There is an extraordinary sign on the outside of a well-tended West Yorkshire vegetable garden: "Help yourself.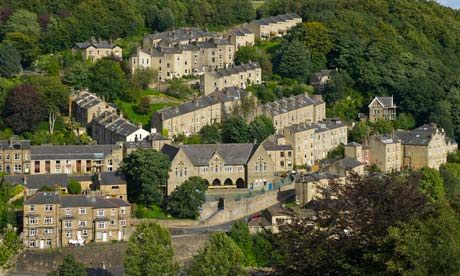 In the same town this summer, people will be helping themselves to sweetcorn growing around the police station. Compost and watering cans seized in drug farm raids find use in the local gardens. And come the autumn a trip to see a local doctor will be a pick-your-own free-for-all as the health centre's grounds have been turned into orchards.
Grieving families who want a rose bush at the graveyard are encouraged to think productive – in one case leading to a remembrance garden of broccoli.
Meanwhile, commuters can snip fresh herbs from the beds and pots outside the railway station. It's all kept weeded by an army of local people who give up an hour or so on the occasional Sunday.
With 40 volunteer beekeepers just trained up, there will soon be honey for all. Anyone inspired to start their own vegetable patch can borrow a community tool library at the community-run allotments.
In the next village, things have been taken even further. The local community are attempting to take over a pub and have already taken over the cinema, the theatre and even the town hall.
In a fold of the wet hills of Yorkshire, the
communities
of Hebden Bridge and Todmorden are at the vanguard of a movement that is picking up momentum across a UK disillusioned with corporate business, government and cuts. It is neither hippy nor New Age, but is made up of ordinary people, old and young, from both affluent homes and social housing.
Call it a sharing revolution. "Community empowerment, social enterprise, co-operative, it has various titles, but it's quietly getting huge," said Mike Perry of the Plunkett Foundation, a thriving national organisation supporting such enterprises nationwide. "I don't think it's about the recession as such in financial terms; it's more that it's made people think about what's important to them.
"It starts with food, then it's taking over a shop that's closing. Then it's getting fired up about broadband and renewable energy, taking over infrastructure of their community. We're at the start of what could be a significant movement."
There are nine community-run pubs and 300 such shops in the UK, but those numbers look set to grow dramatically, not least because they show staggering resilience in tough times, but also as people power reacts against closures that fundamentally affect their lives. It may not create many jobs, but it does glue communities together and keeps money circulating locally.
And it's not just in the countryside; there are many web schemes across the UK where people can arrange to swap or give away items to others in their area. Tool libraries and bike sharing are growing. In London, Streetbank.com has begun organising people to share everything from a lawnmower to a DVD with others within a mile's radius. Some 3,000 people have signed up in its first few months. DIY retailer B&Q has a pilot scheme in Reading on tool sharing, to ease the environmental damage caused by millions of people buying power tools they may use only once or twice."