from the Observer: "
Discontent over corporate salaries and bonuses has been growing for some time. Last week, at annual general meetings across the country, it escalated into a full-scale rebellion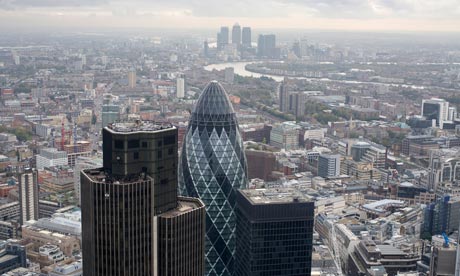 For Catherine Howarth, "it's been a totally fabulous week". The chief executive of campaign group Fair Pensions, which has long toiled to persuade City investors to rein in the worst excesses of British listed companies, the unprecedented wave of investor rebellions over recent days represents nothing less than a revolution.
"There's this really long history of shareholders being unwilling to use the powers they have. The fact that this is changing at the moment is really something to celebrate," she says. Paul Hewitt of investor lobby group Manifest describes it as a "shareholder spring".
Just weeks after the Occupy protesters were chucked out of the City, the sharp-suited fund managers who picked their way through the tents to get to their desks each morning have staged their own protest against fat-cat capitalism.
On Thursday alone, five companies felt the wrath of investors and suffered revolts over their pay policies. For Aviva, the insurance company, the rebuke was so strong that more than half its investors rejected its remuneration report in protest at pay for underperformance, particularly in respect of chief executive Andrew Moss.
The revolts followed a string of protests at companies as diverse as Barclays and mining company Xstrata. Shareholders' fury has not just been directed against remuneration reports, but also against individuals. Sly Bailey has fallen on her sword at Trinity Mirror, and even a boardroom veteran such as Alison Carnwath has not been immune.
More than one in five investors voted against Carnwath's re-election to the board of Barclays as chair of the remuneration committee that nodded through Bob Diamond's pay; and she also faced a revolt at hedge fund Man Group, where investors feel she has been involved for too long to be truly independent. Advertising giant WPP and bookie William Hill also face protests.
Several factors have come together to make 2012 the most stormy annual meeting season in living memory. One is the government's vocal determination to tackle "rewards for failure". Business secretary Vince Cable has proposed radical reforms, including giving shareholders a binding vote on pay, rather than the advisory vote introduced by Labour, and forcing companies to disclose pay deals for departing directors.
Some of the measures have been fiercely criticised by business groups, including the CBI; but he is expected to stick to his guns when he publishes final proposals next month.
The grim economic backdrop and the pessimistic public mood has also thrown some of the lavish rewards for top executives into sharp relief. George Dallas, director of
corporate governance
at fund manager F&C, says bumper pay packets have come under increased public pressure because many families are facing declining living standards. "There is a lot of austerity going round and the taxpayer is still feeling that the crisis hasn't gone away," he says.
A third factor driving the "shareholder spring" has been a concerted campaign by groups such as Fair Pensions, trades unions and green groups. They have worked to persuade small shareholders, including retail investors and workers with pensions or insurance funds – who between them hold billions of pounds' worth of shares – to ask how their money is being invested and demand a more active approach."