From:
http://www.chinadaily.com.cn/china/2013-05/12/content_16492961.htm
An American philanthropist's desire to shape the minds of the leaders of tomorrow means juniorstudents in China have an opportunity to join an all-inclusive 10-day private safari tour of SouthAfrica.
Students between grades 1 to 9 win a place on the safari by participating in the second annualGlobal Natural History Day competition.
Funded by Kenneth E. Behring, the chairman of the Global Health and Education Foundation,a nonprofit organization located in California, the GNHD competition aims to help develop thenext generation of world leaders.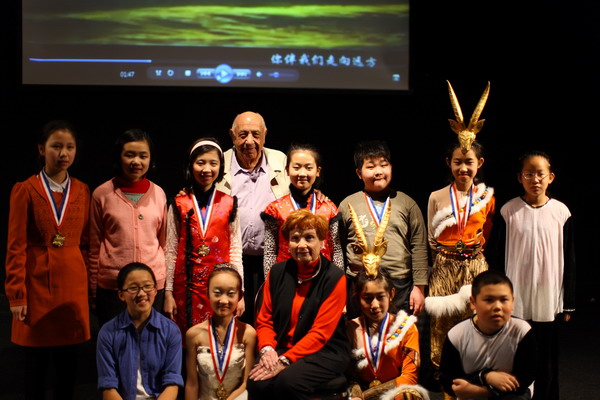 Kenneth E. Behring (back row) founded the annual Global Natural History Day competition in 2012 toinspire children to tackle the world's problems. [Provided to China Daily]
"It (GNHD) can stimulate and excite kids about the natural world, so they can take the lessonsof nature and become well-educated, creative and imaginative leaders who can tackle theworld's problems," Behring tells China Daily at the 2013 GNHD competition Shandong LaunchCeremony held in April.
The 2013 GNHD competition, themed "Great Migrations: Animal, Botanical, Anthropological",covers China and the United States.
In addition to cash prizes, winners of their respective divisions will be eligible for the "KennethE. Behring Discovery Trip" in February 2014, which will take winning students and teachers toSouth Africa.
The GNHD competition is only part of Behring's philanthropy efforts, which began in 2000. Thatyear, Behring had an epiphany when he lifted a small Vietnamese girl from the ground andplaced her in a wheelchair. The incident turned the entrepreneur into a philanthropist.
"I saw this little girl envision a freedom she had never known. Her face opened into a smile,"Behring recalls.
"For the first time I could remember, I felt joy."
Behring was in business for nearly seven decades and was listed as one of the 400 wealthiestmen in America by Forbes Magazine.
But he wasn't happy.
"After a career filled with outward success, I did not even know where to look to find realhappiness," Behring says.
The very same year, he created the Wheelchair Foundation, marking the start of hisphilanthropic journey.
To date, Behring has given away nearly a million wheelchairs to more than 150 countries.
In 2001, Behring established a partnership with the China Disabled Persons' Federation to helpdistribute wheelchairs in China. Since then Behring has distributed more than 325,000wheelchairs in more than 40 cities and towns in China.
Behring is impressed by the tenacity of the physically challenged people in China.
"More often than not, I meet physically disabled people in China who are good singers, paintersand craftsman."
Behring understands the huge challenge China faces in terms of physically challenged people.
"Because of its size, China most likely has the largest population of physically disabled peopleof any country in the world. The government is very aware of their challenges."
But his philanthropic work in China goes beyond the GNHD project and wheelchairs. Behringhas started a safe drinking water project together with local governments and departments.
The water project aims to help eliminate waterborne diseases and impurities by carrying outfeasibility studies, purchasing water purification systems, overseeing water station constructionand sanitation quality control, as well as conducting public health and sanitation education inrural areas.
A pilot project has begun in Shanyin county, Shanxi province, where the water contains highlevels of fluoride and arsenic. According to Behring, the project serves 215 households of 830people within Yangzhuang village. They charge the villagers a small fee to keep the operationsustainable.
Behring plans to open water stations in five other villages and wants physically disabled peopleto run them.