From:
http://www.guardian.co.uk/world/2013/may/02/iraq-military
An Old Bailey judge sentenced Jim McCormick, 57, to 10 years in jail on Thursday for a fraud he described as the worst he could imagine and "a callous confidence trick".
The survivors of lethal Baghdad truck bombs driven through checkpoints equipped with fake bomb detectors are to lay claim to at least £7m of the assets of the Somerset fraudster who sold them.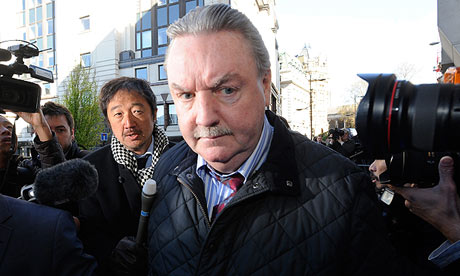 Now a list of around 200 people either injured or related to the 95 killed in a double bombing on the Iraqi ministries of justice and foreign affairs in 2009 will be presented to the UK authorities.
McCormick sold 7,000 fake bomb detectors based on useless golf ball finders to the Iraqi government and other international agencies for prices ranging from £1,600 per unit to £19,000.
They cost McCormick less than $50 (£32) and police believe sales to
Iraq
alone were worth more than £55m, buying McCormick a mansion in Bath, holiday homes abroad and a yacht.
Judge Richard Hone told McCormick: "Your fraudulent conduct in selling so many useless devices for simply enormous profit promoted a false sense of security and in all probability materially contributed to causing death and injury to innocent individuals."
An adviser to Nouri al-Maliki, the Iraqi prime minister, said he intends to make a claim on behalf of the victims of the 2009 attack which the Old Bailey heard on Thursday was an example of McCormick's fraud contributing to terrorists' success.
"A list of those who died and were injured and their kin is already available and I will bring that list to London and provide it to the British government," said Saad al-Muttalibi, a city councillor in Baghdad.
"This money should be paid to the people who can prove they were victims of terrorism. These bomb detectors became the main deterrent in Iraq."
Brigadier Simon Marriner, who served in Iraq from 2009-2011, had told the court in a statement that McCormick's ADE-brand machines were used at checkpoints across Baghdad through which truck bombs had to pass before blowing up the ministries of justice and foreign affairs.
"These checkpoints were equipped with the ADE," he said. "The truck bomb attacks were very successful in causing significant loss of life and considerable material damage which remains to this day."
Outside court Iraqi exiles called for compensation from at least £7m in assets that are expected to be confiscated from McCormick, from Langport, Somerset.
"He destroyed Iraqi lives," said Nidhal Ailshbib, an Iraqi activist based in London. "Thousands of Iraqi people are dead and handicapped."
DS Steve Mapp, of Avon and Somerset police, urged people who believe they were victims of the bomb detectors to make a claim for compensation from the confiscation hearing scheduled for May 2014.
"We can invite them to come forward to be considered to be compensated for their loss," he said. "That is something we are considering and it is only right."
Richard Whittam QC, defending, said: