From:
http://www.guardian.co.uk/business/2013/may/15/amazon-uk-tax-3m
Online retailer's tax charge brings to £6m the total corporation tax raised from Amazon.co.uk in a decade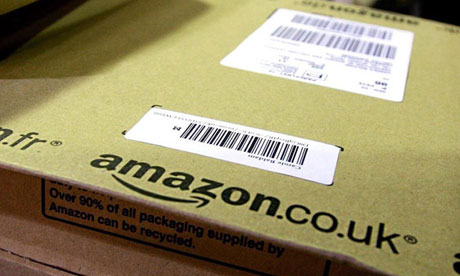 The revelation comes amid public unrest over the minimal contribution of Amazon and fellow digital giants Apple and Google to the British public purse, despite the important contribution UK sales make to their international revenues.
The UK company declared a turnover of £320m for 2012, up 50% on 2011. However, its income is largely raised from other Amazon companies in return for services such as warehousing and distribution and negotiating purchasing deals with book publishers.
Amazon gives a fuller picture of its UK revenues on regulatory filings to US investors, and this data showed a growth in UK turnover of 20% during 2012, to $6.5bn (£4.2bn).
The company's UK filing states: the company recorded a profit before taxation of £10.8m in the current year and "is expected to remain profitable for the foreseeable future".
"HMRC should be going through this company's tax arrangements with a fine-tooth comb," he said.