"A far-reaching new study suggests a staggering $21tn in assets has been lost to global tax havens. If taxed, that could have been enough to put parts of Africa back on its feet – and even solve the euro crisis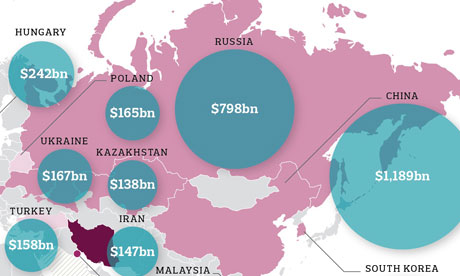 The world's super-rich have taken advantage of lax tax rules to siphon off at least $21 trillion, and possibly as much as $32tn, from their home countries and hide it abroad – a sum larger than the entire American economy.
...
"This offshore economy is large enough to have a major impact on estimates of inequality of wealth and income; on estimates of national income and debt ratios; and – most importantly – to have very significant negative impacts on the domestic tax bases of 'source' countries," Henry says.
...
"These estimates reveal a staggering failure," says John Christensen of the Tax Justice Network. "Inequality is much, much worse than official statistics show, but politicians are still relying on trickle-down to transfer wealth to poorer people.
"This new data shows the exact opposite has happened: for three decades extraordinary wealth has been cascading into the offshore accounts of a tiny number of super-rich."
In total, 10 million individuals around the world hold assets offshore, according to Henry's analysis; but almost half of the minimum estimate of $21tn – $9.8tn – is owned by just 92,000 people. And that does not include the non-financial assets – art, yachts, mansions in Kensington – that many of the world's movers and shakers like to use as homes for their immense riches.
"If we could figure out how to tax all this offshore wealth without killing the proverbial golden goose, or at least entice its owners to reinvest it back home, this sector of the global underground is easily large enough to make a significant contribution to tax justice, investment and paying the costs of global problems like climate change," Henry says.
...
In many cases, , the total worth of these assets far exceeds the value of the overseas debts of the countries they came from.
The struggles of the authorities in Egypt to recover the vast sums hidden abroad by Hosni Mubarak, his family and other cronies during his many years in power have provided a striking recent example of the fact that kleptocratic rulers can use their time to amass immense fortunes while many of their citizens are trapped in poverty.
Assuming that super-rich investors earn a relatively modest 3% a year on their $21tn, taxing that vast wall of money at 30% would generate a very useful $189bn a year – more than rich economies spend on aid to the rest of the world.
...
Milorad Kovacevic, chief statistician of the UN Development Programme's Human Development Report, says both the very wealthy and the very poor tend to be excluded from mainstream calculations of inequality.
"People that are in charge of measuring inequality based on survey data know that the both ends of the distribution are underrepresented – or, even better, misrepresented," he says.
"There is rarely a household from the top 1% earners that participates in the survey. On the other side, the poor people either don't have addresses to be selected into the sample, or when selected they misquote their earnings – usually biasing them upwards."
...
Globalisation has exposed low-skilled workers to competition from cheap economies such as China, while the surging profitability of the financial services industry – and the spread of the big bonus culture before the credit crunch – led to what economists have called a "racing away" at the top of the income scale.
The surveys that are used to compile the Gini coefficient "simply don't touch the super-rich," he says. "You don't pick up the multimillionaires and billionaires, and even if you do, you can't pick it up properly."
In other words, even a solution to the eurozone's seemingly endless sovereign debt crisis might be within reach – if only Europe's governments could get a grip on the wallets of their own wealthiest citizens."