Costly celebration, criticised as cultism and hero worship, comes at a time of heavy job losses and slowing economic growth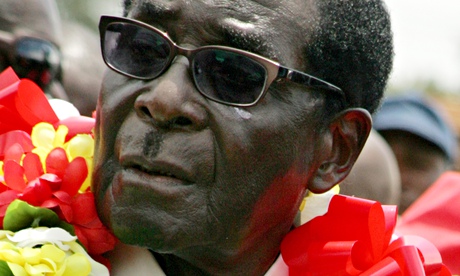 But he is expected back in time for the birthday celebration with thousands of supporters at the Rudhaka stadium in the town of Marondera on Sunday, two days after he turns 90.
Absalom Sikhosana, secretary for youth affairs in Mugabe's Zanu-PF party, told reporters recently: "This is a very special celebration. Turning 90 is no mean feat. You cannot turn 90 years when you are a womaniser, a drunkard or a chain smoker. We will be celebrating the life of a very special person on a very special occasion."
It is a milestone in the history of the country, which has known no other leader since gaining independence from Britain in 1980, but activists and opposition politicians described the event as an extravagant waste of money when many citizens are going hungry.
Reflecting on Mugabe's 34 years in power, Mavhinga added: "His human rights record is one that no one can honestly admire. There is nothing to celebrate about his birthday or his legacy – and there are concerns that, if something should happen to him, the country might be plunged into chaos if there is no clear mechanism for transition."