From The Observer - http://www.guardian.co.uk/society/2013/feb/10/uk-super-rich-richer-as-majority-squeezed
Inequality has risen sharply since the 1990s, according to a report by the Resolution Foundation thinktank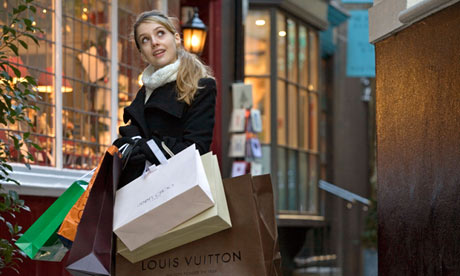 Buying essentials in London's West End: Britain's super rich have seen their slice of national income grow from 7% to 10% since the 90s. Photograph: Ruby / Alamy/Alamy
The super-rich – the top 1% of earners – now pocket 10p in every pound of income paid in Britain, while the poorest half of the population take home only 18p of every pound between them, according to a report published this week by the
Resolution Foundation
thinktank, which reveals the widening gap between those at the very top and the rest of society.
Inequality has grown sharply over the past 15 years, according to Resolution's analysis: the top 1% of earners have seen their slice of the pie increase from 7% in the mid-1990s to 10% today, while the bottom half have seen their share drop from 19% to 18%.
There was a dip in top earnings between 2009-10 and 2010-2011, but Resolution's analysis suggests that may have been because highest-paid employees brought forward earnings to avoid the 50p top tax rate on earnings above £150,000, which Chancellor George Osborne has cut to 45p from this April.
Matthew Whittaker, senior economist at the thinktank, said: "If we take the longer view, we see the very wealthiest have continued to prosper while many others have not.
"The growing gap in incomes is pronounced when you look at the top 10th of households, and overwhelming when you consider the position of the top 1%. The rest of society hasn't kept up. It's the squeezed majority, not just the squeezed middle."